Chocolate Stripes ($6.75)
(B) 80 days.
After removing it from the list in 2009, I was bombarded by horrified customers who could not live without it and were freaked out by not seeing it. So it's back for good. Sorry.
Among the largest of the black tomatoes, this one was among the top 3 winners of TomatoFest 2007. Reaching 2½ lbs., ripening to mahogany with dark olive green stripes, these fruits have enormous old-time tomato flavor and an appearance similar to Black Zebra, but huge!
A plentiful harvest, stunning beauty and out-of-this-world taste make Chocolate Stripes a rare treat in your garden.
Be sure not to over-water when the fruits are getting ripe because they will crack! Seriously. Be careful. Test the soil, if it is barely damp, turn off the hose and back away.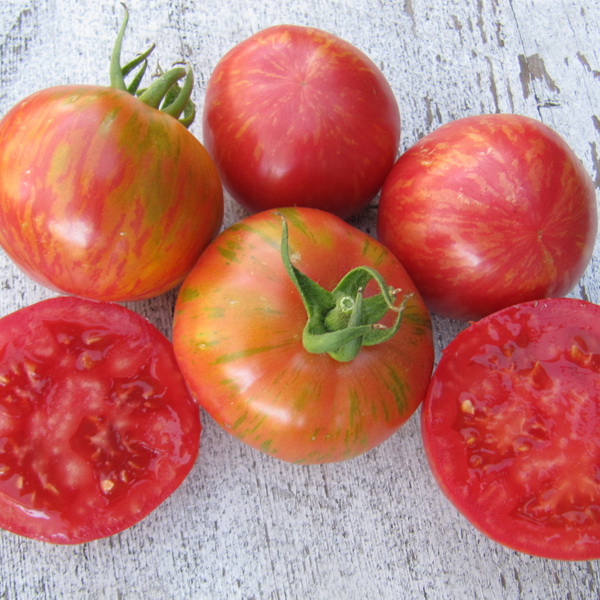 Dragon's Eye ($6.75) 70 days.
Gorgeous, fruity, juicy and sweet, Dragons' Eye tomatoes average about 3 to 5 ounces, grow in incredible delicious bountiful clusters. Perfect for fresh eating and roasting--make the best salsa, too!
Beautiful pink-rose fruits have green streaking that turns gold at full ripeness.
They appear shimmery and luminescent as they ripen on the vine --inside , the flesh is deep dark red. A real workhorse of a tomato, huge production! This strong plant does beautifully in containers.
New for 2020!

Firebird Sweet (

Dwarf)

(6.95)

(VSM)
(E)
65 days

Here is a big, ambrosial, multi color tomato growing a small 3½ ft plant.

The fruits ripen to deep crimson with beautiful golden streaks. Rich full flavor, small plant. Perfect 6 to 8 oz salad/slicer tomatoes are a treat for sandwiches, salads, roasting and grilling.

This is a thrilling tomato, growing from 4 to 10 oz, sweet, juicy, gorgeous--everything you love in a tomato. Be sure to let them ripen fully to enjoy them!

History: Developed 2011-2016 by members of the Dwarf Tomato Project from a cross between Dwarf Wild Fred and Beauty King made by Vince Lavallo in 2011, which he named Beauty. It was developed along with by Vince Lavalle, Craig LeHoullier, Lurley Hernandez, Lindsey Ratterree, Dan Follett, Carolyn Keiper, and Nancy Ruhl. Named by Craig LeHoullier in 2013.

Please take some time to read about the Dwarf Tomato Project. The dedicated members of this group from all over the world worked for many, many years to bring us these small plants with their delightful fruits. They really have changed the tomato world.
Goldfinch

$6.95 (Dwarf Plant)